Make Pulihora for your next party
Posted on
Ah! The favourite Naivedyam of Gods! Not just that. Along with fresh mango leaves thoranam, the colorful flowers and the scent of incense sticks. Pulihora (Puliodarai, tamarind rice, chitrannam) is a MUST on any auspicious occasion.

Unlike other Prasadams you make like Boorelu, Garelu etc Pulihora does not need to be deep fried, hence healthy too! Also, if you want to give a 'makeover' to yesterday's leftover rice, Pulihora is the thing to do. The transformation from a drab, lifeless rice to the spicy, aromatic bright yellow Pulihora is sure to surprise you and take your breath away!

An added advantage is that it stays till the next day and in fact, tastes better the next morning. This yellow rice, easy to make in large quantities and distribute in packets, makes its appearance in temples as Prasadam, political rallies, Ganesh processions and where not!

By now you must be impatient to know about its preparation, so let's get started.
 Ingredients:
Rice - 1 cup
Turmeric Powder - 4 tsp
Tamarind Mix:
Tamarind - 30 grams
Cooking oil - 4 tbsp
Groundnut - 3 tbsp
Mustard - 1tsp
Gram dal - 1 tsp
Red chillies (cut) - 2
Green chillies (slit) - 3
Curry leaves - 2 sprigs
Turmeric powder - 4 tsp
Hing - 1/4 tsp
Salt to taste or ~ 3 tsp
Masala mix:
Gram dal - 1 tsp
Urad dal - 1 tsp
Coriander seeds - 1 tsp
Fenugreek seeds - 1/4 tsp
Red chillies - 4
White sesame seeds - 1 tsp 
Hing - 1/4 tsp
Preparation:
Cook one cup rice in 2 cups water. Add one teaspoon oil while cooking so that the rice doesn't become sticky.

Fry 3 tablespoon groundnuts, one teaspoon each of urad dal, chana dal, mustard seeds, 2 red chillies, 3 green chillies, hing and the curry leaves.
Take the tamarind extract, boil it with 1/4 teaspoon of turmeric till it thickens and keep aside.

Fry one teaspoon chana dal, one teaspoon urad dal, one teaspoon coriander seeds, 1/2 teaspoon fenugreek or methi seeds and 4 red mirchis.When almost fried, add one teaspoon sesame seeds and 1/4 teaspoon hing and fry. After cooling, powder the above ingredients.
To the cooked rice, add salt, the tamarind pulp, the ground powder and the garnishing and mix thoroughly.

Yeah, the "wonder rice" is ready!

In case all this exhausts you or you want a two minute solution, order for our Pulihora mix.

P.S. We have taken care to provide you with a separate pouch of garnishing to have that crunchy, fresh taste always.
Get it here - https://avakaya.co.in/products/pulihora-mix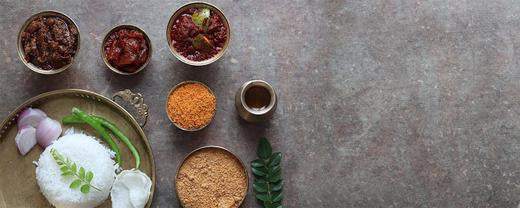 Our motivation for starting this business is that we did not find these traditional home made pickles in the market today.  However, there are quite a few commercial pickle companies who prepare them on a massive scale in factories and god knows when they are made! They come in ships from India,...
read more